Forewarning

From Extraordinary Adventures of Mullah Nasruddin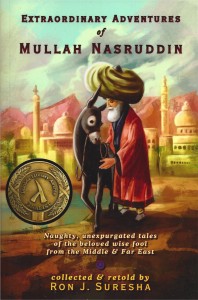 As in my first collection of Nasreddin Hoca folklore, The Uncommon Sense of the Immortal Mullah Nasruddin, every single story included in its sequel, Extraordinary Adventures of Mullah Nasruddin, is completely authentic, taken from published works listed in the Sources.
That said, the adult reader is hereby warned that taboo topics of tales within this collection include: bestiality, animal cruelty, scatology, ethnic prejudice, racism, sexism, domestic abuse, marital infidelity, bigamy, homosexuality / bisexuality, sodomy, pederasty, pedophilia, incest, blasphemy, apostasy, treason, violence, torture, homicide, and war.
   Readers are cautioned of the inappropriateness of this book for children.
Rule of thumb for parents and librarians: if the child can understand the meaning of the word unexpurgated, as in the subtitle to this book — Naughty, unexpurgated stories of the beloved wise fool from the Middle and Far East — the child is certainly mature enough to read on. Otherwise, strict parental supervision is strongly advised.